Earlier this week, Wine Enthusiast announced that Constellation Brands was expanding production of Ruffino Prosecco with the purchase of 311 acres (126 hectares) of added vineyards in the Veneto & Treviso areas. Additionally, they acquired a second wine production facility with the capacity to crank out 9.2 million gallons (35,000 hectoliters) of Prosecco.
9.2 million gallons.
If they max out production that would be over 45.6 million additional bottles of Prosecco from Ruffino. Now granted, that is almost a drop in the bucket for a region that produced 475 million bottles in 2016.
But even beyond Ruffino, the Prosecco DOC zone is growing with the Consorzio di Tutela Prosecco DOC authorizing the additional planting of 3000 more hectares (7,413 acres) of vines in 2016. This coming only 7 years after the DOC region was established in 2009 with 20,250 ha (50,039 acres). This was essentially an expansion upon the original 7,191 ha (17,769 acre) Prosecco zone that is now DOCG Prosecco from Conegliano and Valdobbiadene.
That's a lot of bubbles.
Now wait…wasn't there a Prosecco shortage?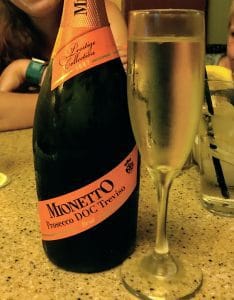 It certainly seemed that way earlier this spring with breathless headlines encouraging people to "Stock Up Now!" and blaming the shortage on poor yields from the 2017 vintage.
Never mind that we heard this song before back in 2015, 2016 and 2017.
However, with each threat of shortage also came increasing pressure to raise prices with Nielsen data reporting in 2018 that the $13+ category of Prosecco saw the largest growth. Never mind that many of these $13+ Proseccos used to be closer to the $10 mark only a few years ago.
So even when the new Prosecco vineyards are fully on line, we're likely still going to be paying more.
And for what?
Expansion vs Quality
Good quality vineyard land is a finite resource. While our knowledge and application of modern viticulture and winemaking techniques can help us maximize the potential of a parcel, there will always be a point where expansion means expanding to areas that aren't going to produce great wine.
This is a cycle we've seen repeatedly throughout history with expansion leading to eventual gluts and wine lakes. In the early 20th century, the European Union was spending around 1.3 billion euros ($1.75 billion USD) a year to encourage the uprooting of poor vineyard sites and "crisis distillation" of excess wine.
Now I'm not saying that these new Prosecco vineyards are going to need be distilled into brandy anytime soon, but I am highly skeptical that we'll see an increase in quality to go with increase production. I can't think of a single instance where substantial expansion of an already established wine region has resulted in an uptick of quality.
If anything, expanded production only highlights the value in protecting the original "classico" region that built a wine's reputation in the first place–a lessons the producers of Soave, for example, took decades to figure out.
The trade off in expanded production zones is supposed to be lower prices following increased supplies on the market. You know, law of supply & demand stuff? But it never seems to work quite that neatly in the wine industry.
Lessons of Champagne
It wasn't that long ago that the Champagne wine region was riding high and needing to expand their production zone to meet demand. In 2008, the INAO expanded the boundary to include 40 more villages and an additional 33,500 ha (82,780 acres) of vines.
Then the global recession came and the very next year we were talking about a Champagne glut even though the supply from the INAO's expansion weren't going to hit the market till at least 2020.
Oh but don't worry, we're back to threats of a Champagne shortage again. Even though the recent 2018 vintage was one of the largest on record, that also didn't stop expectations of prices increases as well.
Gravity Doesn't Apply To Wine Prices
What goes up, often stays up.
Even with "gluttonous" over supply and waning demand, the best hope is usually just a mere slowing of how fast prices hike up. Each time a new bar is set with pricing, that becomes the new normal–regardless of quality.
A consumer's best resource against these market dynamics is simply to increase their own vigilance and awareness of what they're drinking. This means paying more attention to where your wine is coming from and how much you are being asked to pay for it.
There is already a big different in quality of wines labeled as DOC Prosecco versus those from the much more limited and restricted DOCG production zones. It's worth looking at the bottle to see what kind of Prosecco it is.
Yes, you will likely have to pay a little bit more for a DOCG Prosecco over a DOC one but you're already paying more for those DOC Proseccos anyways. Now you have to ask yourself if the quality level is what you're expecting–or if its what you've been used to getting.
This truth goes beyond Prosecco to really every wine.
That bottle of your favorite old standby that was once such a great deal, might not be quite as good the next time because now there's 5x more of it on the market and the winery has had to get different fruit sources to meet that number. It might not be bad. But it won't be what it once was even though you might be paying the same amount (or more).
As consumers, we will always have choices. Sometimes it's worth paying a little bit more for something better. Other times there will be different producers or different regions offering options that deliver just as much (or even more) pleasure for the same amount of money that you were used to spending for your old favorites.
You don't have to settle for paying more for less quality. Though if you aren't paying attention, that's exactly what will happen.
Subscribe to Spitbucket