A few quick thoughts on the 2017 Villa Wolf Pinot noir rosé from the Pfalz region of Germany.
The Geekery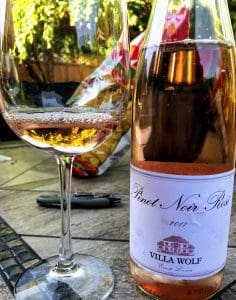 Villa Wolf's origins date back to 1756 when it was founded as J.L. Wolf estate. While the winery saw some prosperity in the 19th century, its fortunes steadily declined throughout the 20th century until it was purchased by Ernst Loosen in 1996.
Today the estate is managed for Dr. Loosen by Sumi Gebauer and her partner, Patrick Moellendorf. Gebauer started her winemaking career as an apprentince at Dr. Loosen's Mosel estate where she met Moellendorf. Moving to the Pfalz in 2011, the couple oversees all aspects of Villa Wolf's production from tending to the estate's vineyards–Königswingert ("King's Vineyard"), Belz and Forster Pechstein–to winemaking.
In addition to working with their own estate fruit, Villa Wolf also purchases grapes from contract growers in the Pfalz.
The 2017 Pinot noir rosé is a Weissherbst. Master of Wine Elizabeth Gabay notes in Rosé: Understanding the pink wine revolution that under German wine laws these rosés must be composed of a single grape variety harvested at QbA or Prädikat levels.
The rosé was made in the short maceration style and bottled with 10.5 g/l residual sugar.
The Wine
Medium intensity nose. A mix of red strawberry and white peach aromatics. There is a little subtle herbalness around the edge but it's more of a sweet floral herb like fresh basil.
On the palate, the red fruit carries through more than the peaches. High acidity balances the medium bodied weight of the fruit and slight residual sugar very well. Moderate finish bring back the basil herb notes which contributes to the freshness of the wine.
The Verdict
At $10-15, this is a very enjoyable and well made rosé. Compared to summertime sippers, this wine's medium body and high acidity certainly amps up the pairing potential.
I can see this wine doing well on the table with holiday fare like Thanksgiving turkey.
Subscribe to Spitbucket