A few quick thoughts on the Cavit Lunetta Prosecco.
The Geekery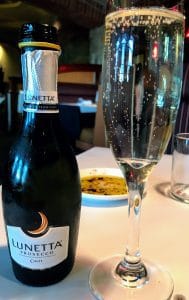 Based in Trentino region north of the Veneto, Cavit is a consortium of 10 co-operative wineries with over 4500 growers. It is one of the largest wineries in the world, selling around 65 million bottles of wine a year. To put that number into perspective, the entire state of Oregon sold around 3.4 million cases (40.8 million bottles) in 2016.
Cavit was first introduced to the US market in 1977 by importer David Taub of Palm Bay International. Originally known as the Cantina Viticoltori del Trentino, Taub encouraged retailers to promote the brand using an anglicized pronunciation of Ca'Vit similar to the name of television show host Dick Cavett. Within two years, Taub was importing more than half a million cases of Cavit wines.
The Lunetta is made from 100% Glera sourced from the large Prosecco DOC zone. The wine is brut in style with 10 g/l residual sugar.
The Wine
Medium-minus intensity nose. A mix of peach and tropical fruits that aren't well defined.
On the palate, the tropical fruits carry through more than the peach but still don't define themselves. The acidity and bubbles balance the fruit and residual sugar well with this Prosecco tasting like a true brut. However, the fruit quickly fades for an exceptionally short finish.
The Verdict
Due to its large production, you'll often find 187ml examples of Lunetta available at restaurants–particularly those with corporate-driven wine lists. In my experience, there is a lot of bottle variation in these 187ml splits. My best guess is that it's probably related to how long the restaurant has been sitting on them.
While a regular 750ml bottle of Lunetta usually drinks like a decent under $10 Prosecco (though the price has been steadily creeping over the $10 mark), sometimes these 187ml splits (like this one I had at the Macaroni Grill) can be very underwhelming. Buyer beware.
Subscribe to Spitbucket