A few quick thoughts on the 2009 Accordini Igino Valpolicella Ripasso.
The Geekery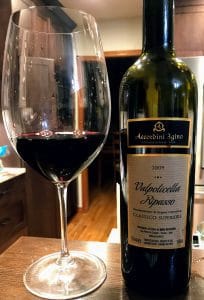 Accordini Igino was founded in the 1960s but the family's history in Valpolicella dates back to the early 1800s. Igino's son, Guido, runs the estate today with his wife, Liliana, and their daughter Ilaria.
The family farms 35 hectares (86 acres) in the hills north of Verona around the villages of San Pietro in Cariano and Negrar.
To produce ripasso, the Accordinis drain the free-run juice from their Amarone tanks without pressing. This leaves the skins, lees and unfermented sugars left over from the Amarone's fermentation. They add their Valpolicella base wine to the tank for an extended 10-14 day post-fermentation maceration on the Amarone lees.
During this time, ambient yeasts will consume the remaining sugars trapped in the Amarone skins and trigger a secondary fermentation that extracts additional color, tannins and flavor into the wine. However, compared to the secondary fermentations of sparkling wines, the CO2 is not kept captured in the tank.
The ripasso (roughly translated as "repass" or "renew") process usually takes place in January or February with the wine then aged an additional 12 to 18 months in oak before release.
The 2009 Ripasso is a blend of 60% Corvina, 20% Rondinella and 20% Corvinone.
The Wine
High intensity nose. Very spicy star anise and cinnamon. Noticeable dark fruits–blackberry, black currant and plums.
On the palate, those dark fruits carry through but also bring an orange citrus note with them. Medium-plus acidity balances the full body weight of the fruit. The acid makes the wine very dry but juicy and amplifies the spices from the nose. Ripe medium tannins are noticeable but fairly soft at this point. Long finish lingers on the spice.
The Verdict
At $20-25, this is a very complex and character driven red.
It reminds me a bit of a Right Bank Bordeaux with its profile but easily one that would be more in the $40 range. Very good buy.
Subscribe to Spitbucket