If you lurk around on Reddit's r/wine sub, you'll often see posts like this one looking for wedding wine suggestions. Back in my retail days, February would be the start of "wedding season" where almost daily through September you'd get customers coming in asking about wedding wines.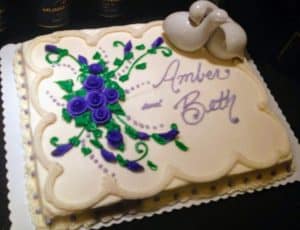 While I understand the sense of not knowing where to start, I actually don't think going to an online board looking for specific wine recommendations is a great idea. Nor do I think googling "wedding wines under $10" or whatever is worth your time either.
That's because every wine market is different in both pricing and selection. These lists and helpful suggestions often send you on a wild goose chase looking for something that you might not even be able to get in your area.
Also, the suggestions that focus on mass-produced and widely distributed options (i.e., supermarket wines) may steer you towards wines that you end up feeling self-conscious about serving at your wedding. (More on that down below)
Instead, the best online advice for picking wedding wines is going to be more general. Both Wine Folly and The Knot have good guidelines that are worth a read. I disagree with a few of their suggestions, but they're solid starting points.
Below I'm going to lay out the practical approach to picking out wedding wines. This is the same advice that I've given hundreds of wedding customers during my career and it all begins with the most important rule.
1.) Don't Stress About the Wine
Seriously. There is SOOOOOOOO much about wedding planning that you're going to be stressing over. Picking out the booze should be at the bottom of the worry list.
Take a step back and think about the weddings that you've attended. How many of them can you remember the wines from? Most likely you're not going to remember much–maybe the varietals at best. That's because you weren't attending the wedding for a wine and dining experience. You were there to celebrate the couple getting married. That is what you remember.
Even though I was in the business of selling wine, my number one advice to couples was to always focus more on the things your guests will remember–the ceremony, venue and maybe the music and food. Those are worth stressing over far more than picking out the perfect wine that will please everyone and pair perfectly with every dish.
Because, frankly, that wine doesn't exist.
What does exist is a bounty of enjoyable wines that will fit whatever budget you have. That should be your starting point.
2.) Start Planning Early and Have Fun
Picking out the booze should be the fun part of wedding planning. It certainly should be more enjoyable than getting measured for tuxes and dresses or deciding seating charts.
The best way to keep it fun is to start early by visiting a good wine shop that is staffed by stewards you can talk to. This is key because a real live person is going to be able to listen to your wants and concerns. They're also going to know what wines are available in your price range that the online "Best under $XX" lists can't cover.
Most importantly, though, you can ask them the very pointed question "What would YOU serve at your wedding?"
If you're dealing with a good wine steward, a question like that gets the wheels cranking. They're going to pick out gems (maybe different grapes or unique regions) at whatever price point you give them. You are essentially borrowing their expertize to make you look like a wine expert.
People still probably aren't going to remember exactly what you served. But if you want a better chance of having "wowzer wines" that impress, this is where you'll find them.
Don't be afraid to give a budget–and don't feel like you have to bust it either.
Again, there is so much good wine out there at all price points. Maybe not blow-your-mind level great but good, solid and enjoyable. Any wine steward that is worth their salt is going to find you the best bottle at your budget that they would feel comfortable serving at their wedding.
But if you are starting early, you don't have to take their word for it. Take home bottles of a few options. Open them up at a dinner party with friends or family. This is where the fun part of wedding planning comes in.
If you want to add a twist (and are worried about your budget), do the tasting blind and include wines at different price points. Go a little under your budget and a little over. Taste through them and see if you or your friends can notice a difference. That will help you zero in on if your budget is reasonable. It will also let you know if the wine steward you're working with is a good one.
If all the wines are duds, try a different wine shop or steward. Starting early gives you that flexibility to have fun and explore your options.
3.) Keep It Simple
I would hope that the wine steward would also be giving you this last piece of advice. Don't go crazy with multiple options and multiple varieties. Not to sound like a broken record, but your guests aren't there to attend a wine tasting experience. They're there to celebrate you! You don't need to try and cover all the bases to please every person.
For nearly every wedding, you only need 3 to 4 options.
Something red and something white.
Something slightly sweet and/or something bubbly.
Rosé wine is also a popular substitute for one of those last two. The idea of a dedicated sparkling wine for a toast is falling out of fashion so many couples just have people use whatever is in their glass for the toast.
Whichever direction you go with is up to you but you should always default back to Rule #1–Don't Stress About the Wine!
Addendum: If you're self-conscious about your wedding wines, avoid the mass-produced brands
Now, this last one I'm including because even though I bang the drum on not stressing, I know there are folks who will stress over everything. (My wife is one of them!)
By far, the biggest stressor regarding wines seems to be the fear of what the wine selection "says" about the couple. (It doesn't say anything, really!) Often that fear centers on the cost of the wine and if the image it projects makes the couple look like cheapskates. This can lead to the temptation to bust your budget and spend way more on wine than you need to.

With all the things that you're going to get nickel and dimed on with wedding planning, I would discourage falling for that temptation. Again, the vast majority of your guests are honestly not going to care and just want to celebrate with you.
(Plus, it's free booze!)
But I can empathize with not wanting to look like you're "cheaping out" on your big day. Even though you're not really cheaping out–you're being reasonable and working within a budget.
However, if you know that is going to be an issue for you, avoiding the big mass-produced names is the easiest way to skip that stress. Because then your guest really won't know how much you paid for your wines.
Picking a big name wine that is widely distributed at every grocery store, gas station and Costco is like leaving the price tag on a gift.
It's also like serving McDonald's at your wedding. Everyone knows the price of a Big Mac and where you got it at. Likewise, anyone that drinks wine or shops at a grocery store has gone by the huge displays of these big name wines and have seen the shiny SALE tag on them. There are no surprises. They will know pretty much exactly what you spent.
Again, this shouldn't be a big deal. But if you are truly self-conscious about the image that your wedding wines are going to project, avoid the "McDonald wines".
If you're working with a good wine steward, they should be able to recommend wines from smaller producers or less widely known grape varieties/wine regions that are going to over deliver on the price. You can get an under $15/10/5 wine that doesn't taste like (or that everybody knows is) an under $15/10/5 wine.
That way you can remove another stressor from what should be one of the best days of your life. Most importantly, it lets everyone get back to focusing on what really matters on your wedding day.
Figuring out what the flower girl is putting up her nose.
Subscribe to Spitbucket