For a follow up to this post, check out Adapt or Perish — The Wine Industry's Reckoning With Technology
As part of the visa application process for my upcoming move, I need to head down to San Francisco at the end of this month for an appointment at the French Consulate. Since we're already paying for a flight, the wife and I figured that we might as well extend the trip to spend a couple of days in Napa and Sonoma.
Appointment slots at many wineries (particularly in Napa) are usually very limited. Often you want to book them at least a month in advance. This typically requires a back and forth email exchange or (gasp) phone call with whatever wineries you want to visit.
I know with the short notice that I'm going to be out of luck at many places. But I don't like the idea of doing an email fishing expedition with 30 some odd wineries just to see which ones might still have an opening. Picking up a telephone to call is out of the question. I am a Millennial after all.
There has to be a better way.
There has to be an app for this.
Silicon Valley is right next door to the most visited wine regions in the country. Wine drinkers tend to be fairly tech-savvy people and, god knows, how many wineries have been purchased/founded by tech millionaires. Plus, the technology already exists with services like Open Table which makes it easy to search and book on your phone reservations at restaurants nearly anywhere in the world.
Surely, someone has come up with an Open Table-like app for booking winery visits. It is 2019 after all!
Right?!?!
I go to the App Store and search for "Winery Reservations." I get an ad for Sonic Drive-In and listing for something called Tock for restaurant reservations.
Hmm, alright. Let's search for "Winery Appointments." Nope. Just an ad for Vagaro Pro (which I totally misread at first) to schedule salon appointments.
Let's see, maybe "Winery Visits"? I knew this was going to bring up a lot of results for regional wine apps. Some of these can be helpful with listings of tasting rooms that are nearby and hours. But they all tend to be localized and don't offer the appointment booking feature I'm looking for.
So I did what any whiney Millennial would do. I whined on social media.
But hey, it worked as Ryan Moore, the VP of Consumer Sales at Ridge Vineyards, came to my rescue.
VinoVisit & CellarPass are the closest attempts.

— Ryan Moore (@Rymo63) February 18, 2019
Alright, I got a lead.
I start checking out the two sites and quickly hit a big ole pothole with Vino Visit.
The initial landing page looked good. However, as soon as you start to search for anything, you get the spinning lag wheel of death with phantom search results. I open up my phone browser and get the same issue with the results page never fully loading.
I double checked the app store to see if there was a mobile app (which is ultimately what I want) and no luck.
Then I went over to CellarPass (great name, BTW) where I at least found a mostly-functioning website.
CellarPass – close but not quite
I'm going to try CellarPass out for my Napa trip. But playing around its website, I see a lot of missing features and poor design. Again, I was hoping to find something along the Open Table model for functionality and intuitive user interface.
I'll highlight some areas where I think the CellarPass team can improve. If any of their folks ever read this, my consulting fee is simply a better app to use. 🙂
First, when you go to the landing page and select a region like Napa Valley you get brought to their main search page. Immediately, you see something missing.
A calendar. Why is there not a calendar function? Right off the bat, I should be able to narrow down my options to what wineries actually have appointments available on the days that I'm visiting.
The whole reason why I was searching for an Open Table-like app was that I knew that there was going to be a lot of wineries that were already booked up. I don't want to start clicking on wineries, going to their page, searching for my dates, only to find that I'm wasting my time. This offers little benefit over the "old fashion way" of emailing dozens of wineries and waiting for the reply or rejection.
Sigh. Okay, let's see what I can search by.
CellarPass gives you the option of searching by varietal. My wife loves bubbles so let's look at the sparkling wine producers.
My page reloaded, so I assumed something happened. It looks like I got a listing of wineries that may have sparkling wines. This is definitely a poor interface with not including the newly added search term up top.
However, I was suspicious why well-known Napa producers like Schramsberg weren't listed. Neither was Mumm Napa, Domaine Chandon or Domaine Carneros. That gives me reasons to doubt the usefulness of this site. They have pages for all them (like Schramsberg below) though without any reservation link or hours available for tasting. But these pages weren't included in my search results for Napa Valley sparkling wine producers.
I'm guessing this is because of "pay to play" with the wineries that do show up in the search being ones that pay CellarPass for their spot. I get that and understand that tech companies need to make money. But come on. Even if the winery is not paying for their reservation link to go through you, they should still be included in a search result. Maybe they get pushed to end of the listings. Fine. But you already have pages created for them. It's pretty ridiculous not to use them in the results.
Unfortunately, this was not my only search folly. On the sidebar, they give you the option to search by experience and notable features. They provide a lot of great choices that would be almost perfect for a visitor to tailor their experience to exactly what they want.
Almost perfect.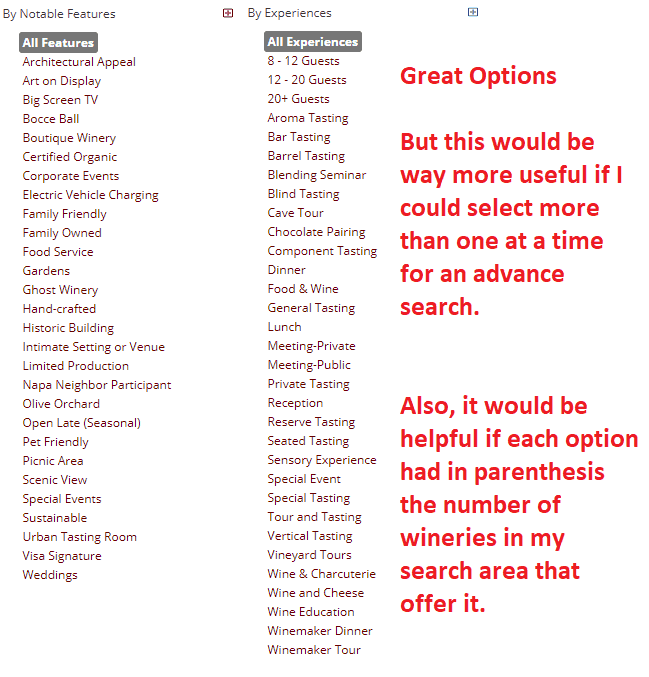 It looks like these features are pulled from the winery page that CellarPass has created. Now I'm not a tech person, but it seems like their site should know how many wineries pages they have listed as "Family Friendly," "Electric Vehicle Charging," "Food & Wine," etc. Why not have the number of wineries tagged noted in parenthesis next to each option?
That's worthwhile information that can help with planning a trip. If there was only something like eight options under "Ghost Winery," that's pretty doable to visit in a couple of days. Maybe I change my plans and do a "Ghost Wineries of Napa Tour." Or if there are only 3 or 4 wineries listed as "pet-friendly" maybe I need to rethink bringing Fluffy along.
Another issue is that you can only search based on one feature or one experience at a time.
What if I want to visit a family-owned, pet-friendly, sustainable winery that does blind tastings?
Well tough luck because apparently that winery doesn't exist–at least according to CellarPass. Not only can you not add multiple search parameters but even when I search for each of those individually I come up empty.
However, this may be a technical issue with cookies or caching or whatever. As I said, I'm not a tech person so I don't know. But I became curious when the very next search I did for "Calistoga" also came up empty. I had to close the webpage and come back before I was able to get results of wineries in Calistoga.
It's possible that as I was checking to see what was available under each option that it kept adding to my search parameters without telling me that it was. But who knows? Again, poor interface and something that you would think a tester would have uncovered.
What About Tasting Fees?
Another thing that is sorely missing is the ability to search based on the cost of tastings. Fees can easily span the gamut with many wineries offering different experiences at various price points. A search feature based on min/max tasting fees should be front and center (along with the calendar function).
Along those same lines, wineries that offer complimentary tastings (which is become exceedingly rare) should be highlighted.
I suspect this entry for Consentino Winery, which notes that it has complimentary tastings, was written by the winery itself (it's one of the few listings in all caps). But CellarPass should use a yellow star, green check mark or something to highlight these wineries because this is the type of info that folks (like broke Millennials) want to know about.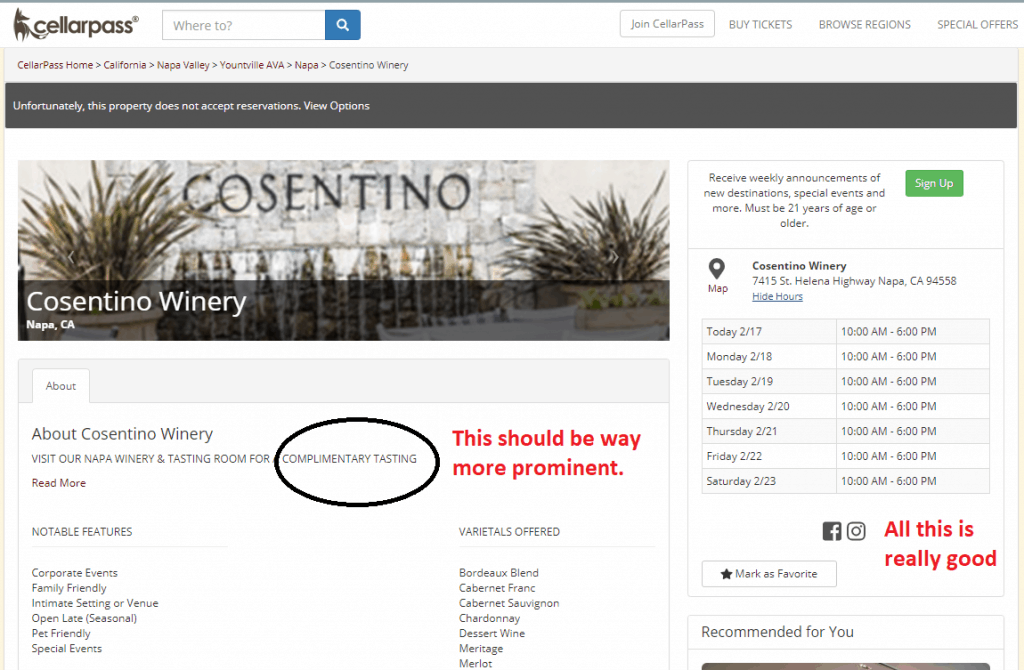 The listing of hours as well as links to social media is a great touch,though.
Finally, WHY IS THERE NOT A MOBILE APP!?!?!
Or maybe there is. I don't know. When I went back to the app store and searched for CellarPass there is something listed as in development and then a "guest link" app. I downloaded the guest link app where I was greeted by a request for a Member ID, Username and Password.
Clicking the "Learn More" takes you to their support portal where you are asked to log in with an email address and password.
So…is this even something I'm supposed to use? Not intuitive in the slightest.
I went back to the CellarPass website where I saw a tab to "Join CellarPass".  Clicking that gives you a pop up where you could sign up for a personal or business account. I click on the personal option where I'm sent to an account creation page. I input my details like email and select a password. Then…
I get an error message.
Lovely.
So, yeah, I have no idea what is going on here.
As I mentioned above, I'm going to try and book a few appointments online with CellarPass through my desktop. We'll see how these go and I'll write a follow up to this post when I return.
But I'm still stunned that while there are apps to alert you when it's the best time to get up and pee, so you don't miss anything good in a movie, that no one has come up a decent app for booking winery visits and appointments.
Come on Silicon Valley! We need to get our drink on!
Subscribe to Spitbucket