A few quick thoughts on the 2015 Smith-Madrone Riesling from the Spring Mountain District of Napa Valley. Note: This wine was received as a sample.
The Geekery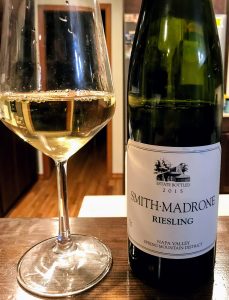 When Stu and Charlie Smith bought 200 acres on the top of Spring Mountain in 1970, the area was so densely covered with Douglas Firs, poison oak and Madrones that they needed a logging permit to clear the land.
However, Stu Smith's belief that the best grapes come from the hillsides encouraged him to plant in this area that still had remnants of old grapevine stakes from the 1880s.
Today, the Smiths focus on estate-grown fruit that is dry-farmed on their 200-acre ranch. In 2015, Smith-Madrone produced 685 cases of the Riesling.
The Wine
High-intensity nose. Green apple and apricot. Very fresh smelling. As the wine warms, petrol also shows up adding more complexity.
On the palate, the same high-intensity of the nose carries through with very vivid and intense green apple and apricot. The high, mouthwatering acidity also highlights some lime as well as a stony flint note that reminds me more of a Sancerre than a Riesling. Dry with medium body weight. Long-finish brings back the petrol but it's not as intense as the fruit.
The Verdict
This is an outstanding Riesling that I'm disappointed that it took me this long to discover.
At $30-35, this is on the high-end for American Rieslings. But I'm not pulling your leg when I'm saying that this is, hands down, the best domestic Riesling that I've tried. I'm spoiled with a lot of great Washington State Rieslings but this tops them. I would put this Smith-Madrone more on par with minerally Trocken Rieslings from Germany.
However, the last Riesling that impressed this much was the Alsatian Cuvée Frédéric Emile from Trimbach (WS Ave $59). While a different style, this Smith-Madrone is not that far off in quality and is certainly worth the splurge. If you can find it, grab it.
Subscribe to Spitbucket