Like most of the world, I've spent the last 24 hours riveted by the tragedy of Notre Dame.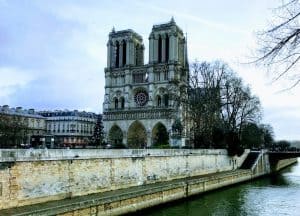 Having just moved to Paris, I heard the news while having dinner at a bistro north of the cathedral. Amidst the murmur of fellow diners' evening conversations in French, there was a sudden interruption of punctuated English, "Notre Dame is burning!"
Reading the reactions that are emerging today as the embers cool, I came across an intriguing claim. Many stories recounting the long history of Notre Dame describe it as a converted wine cellar during the French Revolution.
What? Is this some cool secret wine history of Notre Dame?
Not quite.
While my heart fluttered at the idea, it didn't take long before my old Wikipedian instincts kicked in. Even though news sites like USA Today, MSN and Live Science are generally considered reliable sources, they're secondary sources regurgitating information that the author heard elsewhere. Like a game of telephone, the message can get muddled.
After noticing that the Notre Dame de Paris' official website doesn't make any mention of this secret wine history, I decided to investigate a little further.
Ideally, the best place to verify is by going to primary sources but my lack of familiarity with French limits that. Therefore I focused on finding reliable secondary sources written before our possible game of telephone started.
So what did I uncover?
While I did find one 2012 blog post that mentioned the Notre Dame wine cellar (or "wine warehouse"), most of the sources I found on this period of Notre Dame's history talk of the great Cathedral being confiscated from the church and turned into a secular temple dedicated to the "Goddess of Reason".
Many sources do describe Notre Dame being used as a warehouse, but it seems like it was mostly for food and general purpose than necessarily being a wine cellar.
Now the French have historically viewed wine as food. I suspect that this connotation is where our little game of telephone got its start. But even the French don't live off of wine alone, so it's far more likely that wine was just a small part of the various goods and supplies stored in Revolutionary-era Notre Dame.
But even though wine wasn't a big part of Notre Dame's past, it will be a part of her future.
One of the bright spots after the tragedy is the spirit of cooperation and determination to rebuild this important symbol of France. Hundreds of millions of euros have been pledged to help with the efforts–with a good chunk of that coming from notable figures in the wine industry.
LVMH (Louis Vuitton Moët Hennessy) and the Arnault family announced that they were donating 200 million euros. Among the very many notable wine brands of LVMH include Clos des Lambrays, Krug, Ruinart, Ch. d'Yquem, Cheval Blanc, Numanthia, Newton Vineyard, Ao Yun, Cloudy Bay, Cape Mentelle, Champagne Mercier, Veuve Clicquot and Dom Pérignon.
François Pinault, who owns Ch. Latour, Clos de Tart, Araujo, Ch. Siaurac and Chateau-Grillet, has pledged 100 million euros.
The owners of Clos Rougeard and Ch. Montrose, Martin and Olivier Bouygues, have pledged 10 million euros.
The Charlois Group, makers of Leroi, Saury and Berthomieu barrels, have pledged their resources to help replace the treasured wood ceiling. This will go a long way towards restoring the 52 acres (21 hectares) of timber that was used to build the original roof.
Despite the devastation, it's good to know that there is hope. Notre Dame will be rebuilt.
And who knows? Maybe the renovations might sneak in a new wine cellar.
Subscribe to Spitbucket