An oft repeated truism in the world of Burgundy is that you should buy based on the producer rather than the vineyard or classification. But this solid piece of advice becomes difficult to follow when you run into multiple bottles made by producers with similar names.
In many cases, these estates are related by blood or marriage which creates a tangled web for a Burgundy lover to untangle.
As part of my own studies, I'm going to try to untangle some of these webs–one common surname at a time. I would greatly appreciate any suggestions for additions or corrections in the comments.
My tools on this journey, besides the internet, will be:
Remington Norman and Charles Taylor's The Great Domaines of Burgundy
Clive Coates' The Wines of Burgundy
Matt Kramer's Making Sense of Burgundy
Bill Nanson's The Finest Wines of Burgundy
We will start off with the Boillot family.
The Boillot family's history of winemaking in Burgundy dates back to 1855 with the fifth generation of Boillots now running their eponymous estates. At several of these estates (like Domaine Jean-Marc Boillot and Domaine Henri Boillot) the sixth generation is working in the family business and preparing to take over.
In 1955, a conflict between Lucien Boillot and his father Henri lead to Lucien leaving his father's estate, Domaine Henri Boillot, and starting his own winery. Henri's other son, Jean, eventually took over Domaine Henri Boillot and renamed it Domaine Jean Boillot. Jean also married Colette Sauzet, daughter of the fame Puligny-Montrachet producer Etienne Sauzet.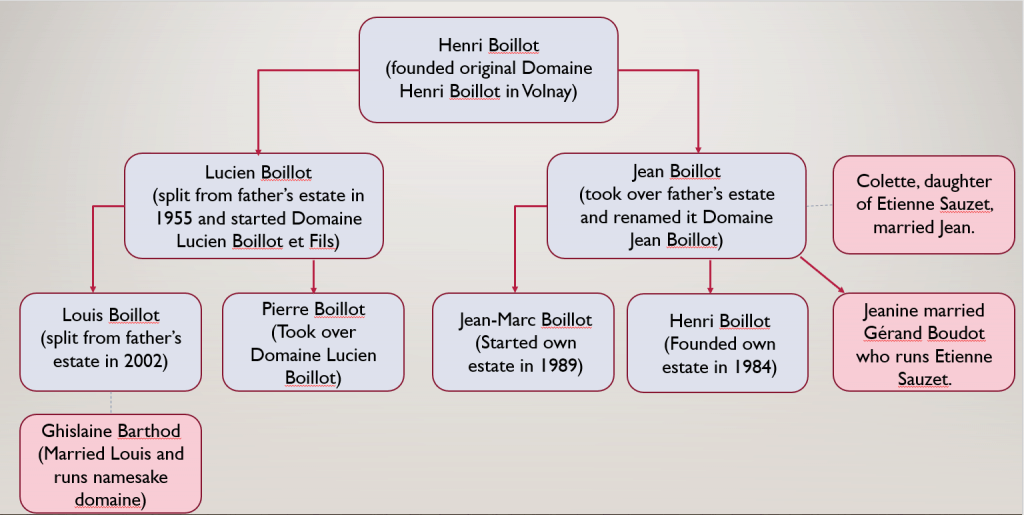 Lucien had two sons, Louis and Pierre, with Louis starting his own estate in 2002 and Pierre inheriting control of Domaine Lucien Boillot et Fils.
Jean also had two sons, Jean-Marc and Henri, as well as a daughter, Jeanine, who married Gérard Boudot and now manages Domaine Sauzet. Jean-Marc started his own eponymous winery in 1989 while Henri started a négociant firm (Maison Henri Boillot) before eventually assuming what was left of Domaine Jean Boillot. To avoid confusion with his brother's estate, he merged the holdings into his own domaine and changed the name back to Domaine Henri Boillot.
The Current Boillot Estates
Founded in 2002 when the estate of Lucien Boillot et Fils was split between Louis and his brother, Pierre. Louis is married to Ghislaine Barthod who runs her namesake estate in Chambolle-Musigny.
Prime holdings: Gevrey-Chambertain 1er Cru Champonnet (0.19 ha) and Volnay 1er Cru Les Caillerets (0.18 ha)
Currently ran by Pierre.
Prime holdings: Puligny-Montrachet 1er Cru Les Perrières (0.23 ha) and Volnay 1er Cru Les Caillerets (0.18 ha)
Founded in 1989. Prior to starting his own estate, Jean-Marc worked as a winemaker for Olivier Leflaive.
Prime holdings: Puligny-Montrachet 1er Cru Les Champ Ganet (0.13 ha) and Les Combettes (0.47 ha)
Founded as a négociant firm in 1984. In 2005, Henri bought out his siblings shares of his father's estate (Domaine Jean Boillot). He then merged the holdings into his own domaine.
Prime holdings: Clos de Vougeot Grand Cru (0.34 ha), Volnay 1er Cru Les Fermiets (2.4 ha) and monopole of Puligny-Montrachet 1er Cru Clos de la Mouchère (3.99 ha) within Les Perrières
Additional Keeping up with the Joneses in Burgundy
The Morey Family
The Gros Family
The Coche Family
The Leflaive Family
Subscribe to Spitbucket