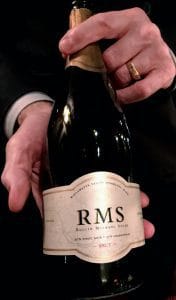 I'm a bit of a bubble fiend. I love drinking sparkling wine. I love talking about it.
Easily at least half of the wine reviews I post here are about bubbles and when I get new sparkling related wine books like Bursting Bubbles, I eagerly devour them.
Living in the Pacific Northwest, I've watched with excitement the growth of the Oregon sparkling wine industry that Forbes.com contributor Joseph V. Micallef highlighted in a recent post.
The founding father of Oregon Bubbles is Rollin Soles who started Argyle Winery in Dundee in 1987. His venture had a lot of all-star firepower backing it with Australian winemaking legend Brian Croser (the 2004 Decanter Man of the Year) and Christian Bizot, then owner of the Champagne House Bollinger.
In 2001, Argyle became part of Lion Nathan corporation with their US branch spinning off in 2012 to become Distinguished Vineyards. Now Argyle is part of a portfolio of brands that includes MacRostie, Wither Hills and The Counselor. In 2013, Soles stepped away from the winery to focus on his brand ROCO that he founded with his wife, Corby Stonebraker-Soles.
While I've enjoyed Argyle since Soles left, I must confess that I haven't been as wowed by the winery's offerings in recent years. Part of it could be the increase in competition as wine shops have been bringing in more sub $25 Crémants from Alsace, Burgundy and the Loire that way over deliver on value. While years ago, Argyle's basic brut at $20 stood out from the pack, now it is just middle of the road with even sparkling wines from New Mexico like Gruet and Jacqueline Leonne delivering delicious value in the under $15 category. Still, the 1998 Argyle Extended Triage remains one of my all time favorite wines.
But times change and winemakers move on, which is why I was very excited to try Soles' new 'RMS' sparkling wine project at The Herbfarm's holiday dinner series "The Holly & The Ivy". While it didn't reach the level of that 98 Extended Triage, the 2014 RMS Brut did remind me of all the things I missed about Argyle.
Around 66% Pinot noir with the remainder Chardonnay, the wine had high intensity aromatics of spiced pear wrapped in a toasty pastry crust. Those notes carried through to a creamy but powerful mouthfeel not that dissimilar to
Charles Heidsieck
. It also reminded me of
Pol Roger
where the weighty flavors are balanced by fresh citrus notes and racy minerality that give lift to the wine. An incredibly well-made sparkler that would probably continue to age even in the bottle under cork. It is certainly well worth the $65 winery price.
What Makes Oregon Bubbles Special?
In his Forbes post, Micallef quotes Tony Soter on how the "sweet spot" of Oregon's cool-but-not-too-cool climate gives its an advantage over both warmer California and cooler Champagne.
"[In Oregon you have] … a generosity of fruit that is expressive of the grape varieties (Pinot Noir and Chardonnay) reaching a high level of maturity while still maintaining an admirable level of acidity, finesse and elegance critical to sparkling wine. [While] … in California, the weather is too warm, forcing a premature picking to minimize excessive alcohol at the expense of the nuance and delicacy of fully developed grapes." — Tony Soter, as quoted on Forbes.com January 19th, 2018
Far from being an "Oregon-homer", Soter's opinion on the differences between Oregon and California's terroir is backed by his 30 plus years of experience working at some of the best names in California wine like Chappellet, Araujo, Shafer, Spottswoode and Dalle Valle.
The stats on Oregon's favorable "goldilocks position" also bares out according to Hugh Johnson and Jancis Robinson's Wine Atlas. While Champagne sits along the 49th parallel and averages a daily growing season temperature of 58.4°F, Napa Valley (home of Schramsberg, Domaine Chandon, Mumm Napa, etc) sits on the 38th parallel averaging growing season temperatures of 66.8°F. The Willamette Valley is nestled right in the middle of that on the 45th parallel with average growing season temps of 60.6°F.
Harvests in California for sparkling wine regularly taking place in early August while in Oregon it doesn't start till September. In Champagne, which wine authors like Robert Walters in Bursting Bubbles claim often harvest too early and too unripe, harvest typically begins late August and early September. Many high quality grower producers in Champagne harvest later into September.
The timing of harvest is key because you want ample acidity for sparkling wine production which you can risk losing if the grapes hang too long on the vine. But at the same time unripe grapes can give bland and uninteresting flavors. Tom Stevenson and Essi Avellan note in their Christie's World Encyclopedia of Champagne & Sparkling Wine that having ripe grapes is absolutely essential for high quality sparkling wine.
Like Washington State, Oregon also benefits from having drastic diurnal temperature variations during the growing season where temperatures can drop at night 30-40 degrees from day time highs, letting the vine literally "chill out" and retain fresh acidity.
This extends the growing season, allowing the grapes to hang longer on the vine, developing riper flavors while still maintaining that vital acidity.
Oregon Sparkling Wine Producers to Seek Out
Micallef notes that there is around 40 producers making sparkling wine in Oregon. While most of the production is small and limited to sales at the winery's tasting room or wine club, there are some producers with ambitious aims.
One that is mentioned in the Forbes article is Radiant Sparkling Wine Company that was founded in McMinnville by Andrew Davis, a protege of Rollin Soles. After 8 years at Argyle, Davis founded his company to serve essentially as a mobile méthode champenoise facility, traveling to wineries with his sparkling wine equipment and technical know-how to help winemakers turn their base wines into bubbles.
Among the wineries that Davis has worked with includes Adelsheim, Anne Amie, Brooks, Ponzi, Raptor Ridge, Sokol Blosser, Stoller, Trisaetum and Willamette Valley Vineyards. In 2017, Davis helped create over 20,000 cases of Oregon sparkling wine to add to the 25,000 cases that Argyle produces yearly.
One of these wines that I've recently had the opportunity to try was the Stoller 2014 Legacy LaRue's Brut Rosé. The 25% Chardonnay and 75% Pinot noir base saw 10 months aging in neutral French oak before bottling and secondary fermentation. The wine spent 2 years on the lees prior to disgorgement with around 275 cases produced.
The LaRue rosé had a beautiful medium plus intensity nose of fresh cherry and strawberries. But what most intrigued me was the tinge of citrus blood orange that framed the red fruit notes. On the palate, the wine added another depth of flavor with some spicy and mineral notes.
I had this wine only about a couple weeks after I had the Louis Roederer 2011 Brut Rosé that I described in my post Cristal Clarity. We had another bottle of the Roederer rose opened with the Stoller and it was quite impressive how the Stoller showed in comparison. While it was more on the delicate and minerally side versus the fruitier Roederer, the Stoller clearly won out with much more vivid aromatics and longer finish that didn't fade as fast as the Roederer. Considering that the Stoller LaRue is $65 while the Roederer is around $70 and you have some substantial value.
For a relatively young sparkling wine industry that just reached 30 years, the future looks exciting for wine geeks wanting to explore Oregon bubbles.
Subscribe to Spitbucket