A few quick thoughts on the Jameson Caskmates IPA edition Irish Whiskey.
The Geekery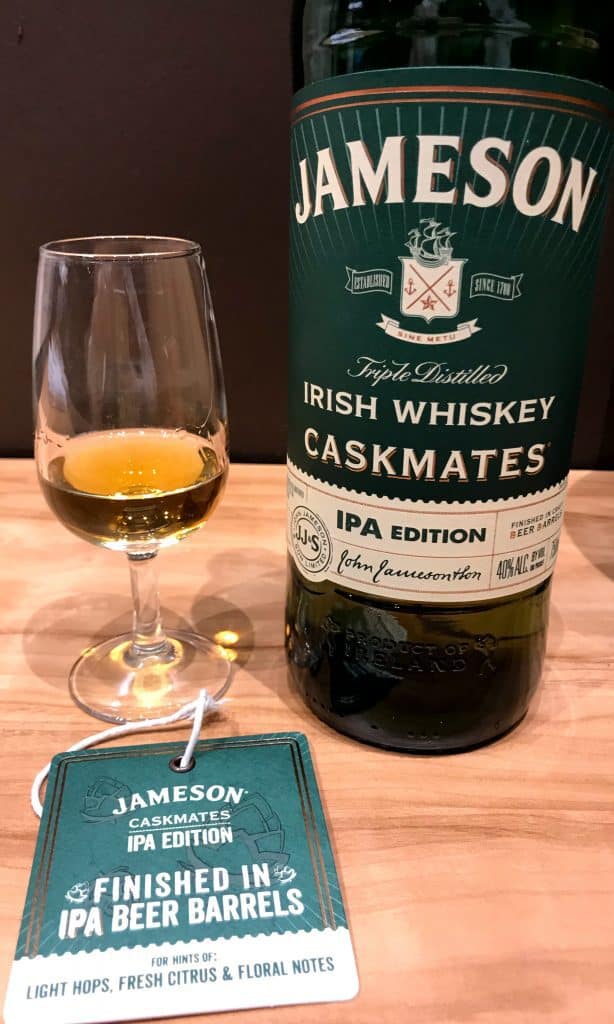 Jameson is a brand of whiskey produced by Irish Distillers which is a subsidiary of Pernod Ricard. The whiskies are distilled at the massive Midleton Distillery along with Paddys, Midleton, Powers, Redbreast and contract distillation for Green Spot, Yellow Spot and Tullamore Dew.
The Caskmates IPA edition follows the 2013 release of the Jameson Caskmates Stout Edition and continues the distillery's "barrel exchange" program with Franciscan Well Brewery in Cork.
Barrels that initially held new make Jameson are sent to the brewery where they are used to barrel age their Irish Pale Ale. After emptying, the barrels are sent back to Midleton where a new batch of Jameson is aged in them.
The Whiskey
Medium plus intensity nose with lots of citrus and floral hops notes. It really does smell like an IPA. Underneath you get some of the tell-tale Jameson apple notes.
On the palate I was pleasantly surprised that it wasn't anywhere as sweet as Jameson normally is. In fact, it was actually salty and mouthwatering. The citrus, particularly grapefruit, carries through but it doesn't taste hoppy or piney at all.
The Verdict
This whiskey doesn't have enough complexity to be a sipping whiskey. Howver, it certainly has a lot more going for it than your typical Jameson. I always look to Jameson as a mixing "well whiskey" that works great in things like Irish Mules where the ginger beer and lime balance the sweet apply notes. The saltiness of the Jameson Caskmates IPA really stands out and may give those mules an interesting twist.
With this Caskmates edition being around $30, its about $10 more than regular Jameson. Its worth trying for the curious. If you're like me and use Jameson as a mixer, this is not worth it for a sipper.
Subscribe to Spitbucket