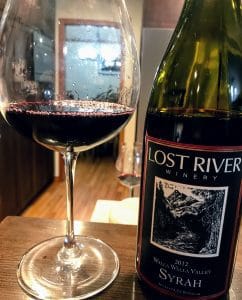 A few quick thoughts on the 2012 Lost River Syrah from Walla Walla.
The Geekery
Lost River was founded in 2002 in the Methow Valley by John Morgan and Barbara House. In 2004, they were joined by Barbara's son, Liam Doyle, who assists with the winemaking. In his book, Washington Wines and Wineries: The Essential Guide, Paul Gregutt describes Lost River as one of the "rising stars" in the Washington wine industry.
In Walla Walla, Lost River sources fruit from some of the most highly acclaimed vineyards in the AVA. In the Rocks District, on the Oregon side, they get Syrah from Stone Valley (part of Seven Hills West Vineyard) that is managed by WAWGG "Grower of the Year" Tom Waliser (who also owns Beresan Winery).
On the Washington side, they get Syrah that was planted in 2000 from Les Collines Vineyard–developed by Norm McKibben (of Pepper Bridge fame) and managed by his son, Shane McKibben. The winery also gets Cabernet Sauvignon and Merlot from Pepper Bridge Vineyard.
The 2012 Lost River Syrah spent around 11-12 months aging in French oak barrels. Around 260 cases were made.
The Wine
Medium-plus intensity nose. A mix of dark fruits like blackberries and black cherries with freshly roasted coffee. Kind of smells like walking into a Starbucks. In the background there is a little spice but it isn't very defined.
On the palate, those dark fruits come through and take on a mouth-watering nature with the medium-plus acidity. The coffee notes become more smokey and savory on the palate. Medium tannins give good structure and balance to the full-bodied weight of the fruit. On the fairly long finish, the spice becomes more defined as black pepper with a floral element lingering.
The Verdict
At around $26-30, this is a bargain for a stellar Washington Syrah from fantastic vineyards in Walla Walla. Usually you want to expect to pay northwards of $40.
This 2012 Lost River Syrah is in a good spot now and will probably continue drinking well for at least another 2-3 years.
Subscribe to Spitbucket