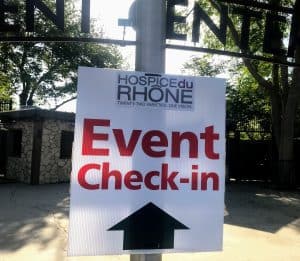 I'm in Paso Robles this weekend attending the Hospice du Rhone. Look for a fuller review about the festivities and if I think the cost of a Weekend Pass (and travel to Paso) is worth it to be posted sometime next week.
But, in the meantime, here are a few quick thoughts from Day 1.
Seminars
Seminar One: South Africa's Cinsault Renaissance — Very eye-opening. Cinsault is not a grape on many folks' radar and, especially in the US, neither is South Africa but there are exciting things going on here. The diversity in styles from light, easy drinking and fruity to meaty, spicy and deep reds is remarkable.
All the wineries featured were stellar but the star of the show was Tremayne Smith's The Blacksmith wines–particularly his Prince of Bones Cinsault.
Seminar Two: A 6th Generation Crusade in the Barossa Valley — This was a particularly fascinating seminar for someone familiar with Washington State wines to sit in on. I was surprised at how similar Barossa was to Washington with numerous vineyard growers who only grow grapes to sell to wineries that do not own any vineyards. What's different though is that apparently Barossa has a lot more "corporate vineyards" ran by vineyard management teams rather than small family growers.
This seminar focused on wines made by 4 wineries with fruit from Hoffman Vineyard and 6th generation Barossa farmer, Adrian Hoffman. Once again the wines were stellar but I was particularly impressed with Soul Grower's Shiraz sourced from 100 year old vines at Hoffman and Chris Ringland's Dimchurch cuvee.
Rosé Lunch
The Rosé Lunch included a very lovely memorial to the late Robert Haas of Tablas Creek and Seth Kunin of Kunin Wines. It also featured some delicious food that highlighted rosé's versatility in food pairing with everything from Chicken Provençal, pork cassoulet to olive oil cake pairing wonderfully with the assortment of dry rosés on each table.
Opening Tasting
There were a lot of hits and misses here. I'm a bit concern about the prevalence of volatile acidity (VA) in several domestic examples. Nothing was full-blown vinegar or nail-polish (which are the more obvious signs of VA) but several wines had the subtle oxidize fruit notes on the nose and prickly "tomato ketchup" acid note on the tongue that trip my VA detector.
Among the hits though were several wineries from Santa Barbara County including the aforementioned Kunin Wines, Potek Winery and Bien Nacido Winery.
This cool-climate area is well known as "Sideways Country" for their Pinot noir but the Rhone varieties from this region were some of the most exciting wines at the tasting.
Stay Up to Date With Spitbucket!
The next few months will be a busy travel season with upcoming trips to Las Vegas for the Wine Spectator Grand Tour, to Burgundy for 5 days touring wineries and vineyards and to the Vodka Belt of the Baltic Sea countries of Sweden, Finland, Russia and more.
I won't be able to post as frequently to the blog during that period but I will still be posting updates and cool stuff on other social media channels.
So check Spitbucket out on Facebook, Twitter and Instagram to follow the fun and geekery!
Subscribe to Spitbucket