A few quick thoughts on the Cossart Gordon Rainwater Madeira.
The Geekery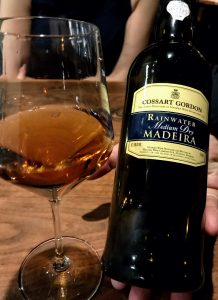 Though now part of the Madeira Wine Company (along with Blandy's and Leacock's), Cossart Gordon is the oldest Madeira shipper still in existence. Founded in 1747 by Francis Newton, it's possible that this house originated the Rainwater style of Madeira that was once incredibly popular in the United States.
In his book, Madeira, The Island Vineyard, Noel Cossart claims that Francis and his brother, Andrew Newton, developed the style in the mid-18th century while shipping barrels of Verdelho to Virginia.
During that time, casks of Madeira were transported between boat and shore with strong swimmers floating partially filled barrels in the water. Once the barrels reached shore, they were topped up, resealed, and awaited carriages to take them to the market. Occasionally the barrels were left unbunged sitting on the beach. This made them susceptible to rainfall diluting the wine. The Newtons discovered that their customers liked this lighter, less concentrated style and began deliberately producing it by blending.
While originally Verdelho, today Tinta Negra is most often used–as it is in this Cossart Gordon.
The wine is fortified only 4 days into fermentation to retain 55 g/l sugar. It spends 3 months heated to 45-50°c in estufas. Cossart Gordon then ages the wine 3 years in American oak barrels.
The Wine
Medium intensity nose. A mix of toasted almonds and candied oranges with some salt brine.
On the palate, the oak is more noticeable with vanilla mingling with caramel and some clove baking spice. Medium-plus acidity is not as mouthwatering as many Madeiras but carries the citrus tang well. Medium-plus body balances the sugar and alcohol. Moderate length finish brings back the brine but lingers most on vanilla.
The Verdict
For around $15, this is a tasty bottle with a fun bit of history. But it's not anything that will particularly blow you away. However, it's worth trying if you see it.
Subscribe to Spitbucket