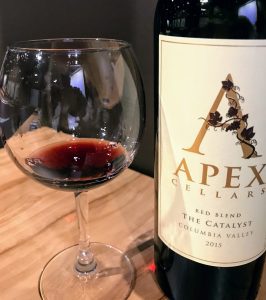 A few quick thoughts on the 2015 Apex Catalyst Red Blend from the Columbia Valley.
The Geekery
Apex Cellars was founded in 1988, as Washington Hills Cellars, by Harry Alhadeff with Brian Carter as winemaker.
The winery, and its second label W.B. Bridgman, was acquired by Precept Brands in 2008 where it joined a portfolio that today includes Browne Family, Canoe Ridge, B. Lovely, Gruet, House Wine, Jacqueline Leone, Pendulum, Radius, Primarius, Red Theory, Sagelands, Paradise Peak, Ste. Chapelle, Summit Estates, Skyfall, Wild Haven, Waterbrook and several others.
Paul Gregutt notes in Washington Wines, that Precept's CEO, Andrew Browne, acquired Apex with the goal of making it a "white tablecloth prestige brand".
The winemaker for the Apex line is Jon Zimmermann who also does the wine production for Willow Crest. Previously Zimmermann was at Canoe Ridge Vineyard, Tefft Cellars, Wahluke Wine Company, Silver Lake and Hogue Cellars.
The wine is sourced from several of Precept's estate and contract vineyards–often including fruit from Alder Ridge, Canyon Vineyard Ranch, Goose Ridge, Jones & Shaw and Willow Crest. I couldn't find details for the exact blend of the 2015 version but the Catalyst is usually a Bordeaux style blend with a healthy dose of Syrah.
The Wine
Medium-minus intensity. A little shy with mostly woodsy oak notes and a mix of red and dark fruits.
On the palate, the dark fruits come through and become more defined as black plum and black cherry. The oak notes also carry through, adding nutmeg and clove as well as dark chocolate that makes me think this blend may be Merlot dominant. Medium acidity adds enough lift for balance. The medium-plus tannins are firm but hold the medium-plus weight of the fruit well. Short finish.
The Verdict
Right now this wine isn't as strong as the 2013 version of the Catalyst which, at $16-20, was one of the best values in Washington.
I'll give its youth the benefit of the doubt and look to revisit it in several months to see how it develops.
Subscribe to Spitbucket