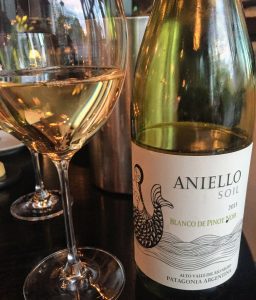 A few quick thoughts on the 2015 Aniello Blanco de Pinot noir from Patagonia, Argentina.
The Geekery
Bodega Aniello was founded in 2010 by winemaker Santiago Bernasconi and a group of partners. Prior to founding Aniello, Bernasconi worked at Bodega NQN in Neuquen, Patagonia.
The estate owns two vineyards, both in the Mainque district in the upper Río Negro region of Patagonia with the main estate planted in 1998 to Pinot noir, Merlot and Malbec. Mike Desimone and Jeff Jenssen note in Wines of the Southern Hemisphere that the climate of this area is much cooler than Mendoza with the soils here a mix of clay and sandy loam. The second vineyard includes blocks of Trousseau that were planted in 1932 and own-rooted Malbec planted in 1947. All the vineyards are sustainably farmed.
The Blanco de Pinot noir is produced by gently pressing and minimizing skin contact of the red Pinot noir grape (similar to what is done in Champagne). The wine is fermented in concrete eggs with a mix of native and inoculated yeast. Around 10% of the wine is aged for 5 months in French oak barrels.
The Wine
Medium-minus intensity on the nose. Very muted. A little tree fruit like peach and apple.
On the palate, the tree fruits comes through but have an earthier element to it–like bruised apple that suggest a little bit of oxidation. Medium-plus acidity gives some life. The wine has a bit of weight to the mouthfeel and a lot of phenolic texture which is surprising giving the little skin contact it had. There is a subtle spice element that is not very defined that comes out on the short finish.
The Verdict
Despite being a core component of many Champagnes, white Pinot noirs are fairly rare and interesting to try. In a blind tasting I can see myself thinking this is maybe a Pinot blanc or a less aromatic and spicy Grüner Veltliner.
At around $17-20, you are paying more for the novelty than the quality.
Subscribe to Spitbucket