A few quick thoughts on the 2004 Opus One from Napa Valley.
The Geekery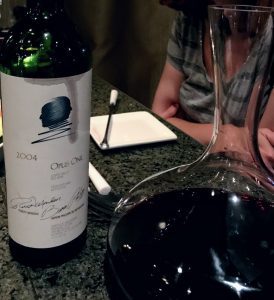 Opus One was founded in 1979 as a joint partnership between Robert Mondavi and Baron Philippe de Rothschild of Ch. Mouton-Rothschild.
In his 1989 book, California's Great Cabernets James Laube describes Opus as one of the "First Growths" in California back when they were making around 11,000 cases a year.
The 2004 Opus One is a blend of 86% Cabernet Sauvignon, 7% Merlot, 4% Petit Verdot, 2% Cabernet Franc and 1% Malbec with around 22,000 cases made.
The Wine
Medium intensity nose. A mix of dark fruits that aren't very defined, noticeable oak spice but also some tertiary tobacco notes.
On the palate those dark fruits become slightly more defined as black currants and bring an herbal element with them. Medium-plus acidity adds freshness and balances well with the velvety soft medium-plus tannins. The mouthfeel is the best part of the wine by far. The mix of oak and tobacco spice are still present and last thru the moderate length finish.
The Verdict
This was the third time I've had Opus after tasting the 2009 at an event and 2011 at the winery. I was very underwhelmed with both but have been told repeatedly by wine folks that "Opus needs time" and that it's unfair to judge them with less than 10 years of bottle age. After trying an Opus now with more than 13 years of bottle age, I have to wonder what follows the old proverb after "Fool me thrice…".
Especially at the $300+ price point (with the 2004 now around $450 a bottle), I can name dozens of Bordeaux wines at or below that level that deliver way more value and pleasure. From Napa, there are bottles from Chappellet, Groth, Bevan, Frank Family, Moone-Tsai, Diamond Creek, Blankiet, Dominus and more that I would be happily content with having 2-3 bottles of for the price of one Opus.
It's not a horrible wine but it is distinctly one that you are paying more for the name than anything else and, frankly, I'm done paying.
Subscribe to Spitbucket