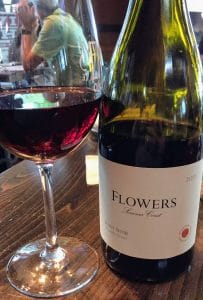 A few quick thoughts on the 2013 Flowers Pinot noir from the Sonoma Coast.
The Geekery
Flowers Winery began in 1989 when Joan and Walt Flowers purchased a few hundred acres in the northern Sonoma Coast AVA only about 2 miles from the Pacific Ocean. The prevailing wisdom was that cold ocean winds would be too cool to properly ripen even Burgundian varieties like Chardonnay and Pinot noir but the Flowers started planting Camp Meeting Ridge Vineyard in 1991.
Over the next couple decades, Flowers would pioneer what would eventually be recognized as the Fort Ross-Seaview AVA in 2011. Today many notable wineries have joined Flowers in planting vineyards or sourcing fruit here–including Helenthal, Hirsch, Littorai, Martinelli, Marcassin, Pahlmeyer, Peter Michael, Siduri and Williams Selyem.
In 2009, Flowers Winery was acquired by Huneeus Vintners where it joined a portfolio that now includes Benton Lane, Faust, Illumination, Leviathan, Neyen, Quintessa, Primus, Ritual and Veramonte.
Since 2010 all of the estate vineyards of Flowers have been converted to either biodynamic or organic viticulture with the winery employing native yeast fermentation. The wine was aged 11 months in French oak barrels (25% new). Around 22,000 cases were produced.
The Wine
Medium-intensity nose. A mix of red fruit and floral notes that aren't very defined. Feels like this wine has faded a bit.
The red fruits carried through on the palate and become more defined as cherry with an interesting, earthy rhubarb note. The floral notes disappear but are replaced with some black tea spice notes that I find appealing in many northern Willamette Pinots. Medium-plus acidity and soft medium tannins are well balanced. The moderate-length finish ends on earthy rhubarb.
The Verdict
While not dead at all, it definitely seems like this wine is on the tail-end of its life cycle and was probably delivering a lot more pleasure 2 to 3 years ago.
At around $45-50, it's not a screaming value at all and, again, I would probably seek out newer vintages at that price.
Subscribe to Spitbucket