As with our first edition featuring the Boillot family, we're going to explore the many Morey estates in Meursault and Chassagne-Montrachet, trying to dissect the tangled weave of similar names to see how the estates may (or may not) be related.
Along with some Google-Foo, my scalpels on this journey will be:
Remington Norman and Charles Taylor's The Great Domaines of Burgundy
Clive Coates' The Wines of Burgundy
Matt Kramer's Making Sense of Burgundy
Bill Nanson's The Finest Wines of Burgundy
The Morey Family
The Morey family's history in Burgundy dates back to at least the 16th century with evidence of winemaking in Meursault since 1793. The history in Chassagne-Montrachet dates back to Claude Morey's arrival from the village of Paris l'Hôpital in 1643.
In modern winemaking history, Albert Morey (father of Jean-Marc and Bernard) was one of the first estates in Chassagne-Montrachet to domaine bottle when he started out in 1950.
Robert Parker has noted in Burgundy: A Comprehensive Guide to the Producers, Appellations, and Wines, that the Morey family name is well regarded in Burgundy for producing "…very good, sometimes excellent white wines."
In studying the various Morey domaines, the family's prominence in the Grand Cru vineyard of Bâtard-Montrachet is apparent with several members producing examples. Though Domaine Pierre Morey owns nearly half a hectare and Domaine Pierre-Yves Colin-Morey contracts with multiple growers in the Grand Cru to expand his production, most of the Morey Bâtards come from tiny holdings averaging only around 0.11 hectare (≈ 0.27 acres).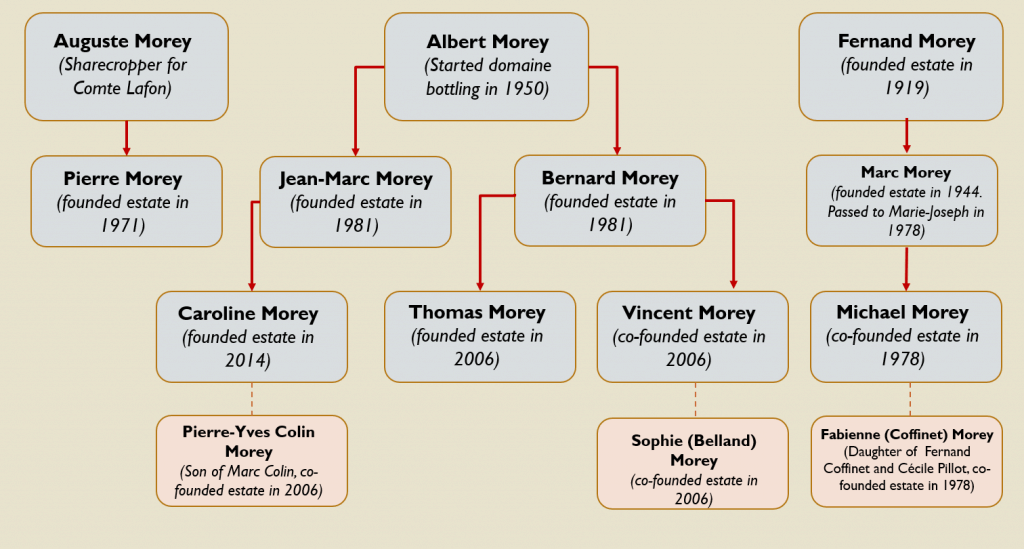 The Current Morey Estates
Domaine Pierre Morey (Meursault) founded in 1971 by Pierre Morey, son of Auguste Morey, who farmed several parcels for Domaine Comte Lafon under métayage agreement. For two decades, Pierre also served as vineyard and winery manager for Domaine Leflaive during which time he was inspired to convert his estate to organic viticulture in 1992 and biodynamic in 1997.
Prime holdings: Bâtard-Montrachet Grand Cru (0.48 ha), Meursault 1er Les Perrières (0.52 ha) and Pommard 1er Les Grand Epenots (0.43 ha)
Domaine Emile Jobard-Morey (Meursault) tiny 4.5 ha domaine ran by Rémy Ehret, son-in-law of the original owners, and Valentin Jobard. The vineyards are farmed using sustainable viticulture. Unfortunately not much information is available about this estate to decipher the connection to the other Moreys or to estates like Domaine Antoine Jobard.
Prime holdings: Meursault 1er Charmes (parcel just below Les Perrières) and Meursault 1er Le Porusot
Domaine Jean-Marc Morey (Chassagne-Montrachet) founded in 1981 by Jean-Marc after the retirement of his father, Albert Morey, with his father's holdings divided between Jean-Marc and his brother Bernard (Thomas & Vincent's father). For almost two decades his daughter, Caroline, has helped him manage the property with his son, Sylvain, running Bastide du Claux in the Luberon.
Prime holdings: St. Aubin 1er Les Charmois (0.40 ha), Beaune 1er Grèves rouge & blanc (0.65 ha) and Chassagne-Montrachet Les Champs Gains rouge & blanc (0.77 ha)
Domaine Marc Morey et Fils (Chassagne-Montrachet) founded in 1919 by Marc's father Fernand Morey with Marc taking over the family estate in 1944. In 1978, the estate was divided between his two children with his son, Michael, taking his holdings to establish Domaine Morey-Coffinet while his daughter, Marie-Joseph, and her husband Bernard Mollard continued producing under the Domaine Marc Morey name. Today the estate is ran by their daughter Sabine with all the vineyards being farmed sustainably.
Prime holdings: Bâtard-Montrachet Grand Cru (0.14 ha), Chassagne-Montrachet 1er Les Caillerets (0.20) and quasi-monopole of Chassagne-Montrachet 1er En Virondot (2.02 ha) with the domaine buying the remaining 0.1 ha from other growers
Domaine Pierre-Yves Colin-Morey (Chassagne-Montrachet) founded in 2001 as a négociant firm by Pierre-Yves Colin (son of Marc Colin in St. Aubin) and Caroline Morey, daughter of Jean-Marc Morey, with the first solo vintage of estate fruit being produced in 2006. Prior to returning to his father's estate in 1995, Pierre-Yves spent time working in California at estates like Chalk Hill and in the Loire and Rhone. The vineyards of Domaine Pierre-Yves Colin-Morey are farmed sustainably with some hectares farmed completely organic.
Prime holdings: Chassagne-Montrachet 1er Les Chenevottes (0.40 ha) with purchase contracts for Grand Crus Bienvenues-Bâtard-Montrachet, Corton-Charlemagne and Bâtard-Montrachet
Domaine Caroline Morey
founded in 2014 by Caroline Morey, daughter of Jean-Marc Morey and wife of Pierre-Yves Colin. The domaine owns 7 ha inherited from Caroline's father in Chassagne-Montrachet and Santenay.
Prime holdings: Chassagne-Montrachet 1er Les Caillerets (0.75 ha) and Chassagne-Montrachet 1er Les Champ Gains
Domaine Thomas Morey (Chassagne-Montrachet) founded in 2006 when the estate of Bernard Morey (Jean-Marc's brother) was divided between his sons, Thomas and Vincent. The estate is relatively unique among the Moreys with around half of its production being focused on red Pinot noir. All the vineyards are farmed sustainably.
Prime holdings: Bâtard-Montrachet Grand Cru (0.10 ha), Chassagne-Montrachet 1er Vide-Bourse (0.20 ha located just below Bâtard-Montrachet) and Chassagne-Montrachet 1er Dent de Chien (0.07 ha located just about Le Montrachet)
Domaine Vincent et Sophie Morey (Chassagne-Montrachet) founded in 2006 when Vincent inherited his share of his father's estate. His wife Sophie is from the notable Belland family in Santenay and brought with her to the domaine around 12 ha. All the vineyards are sustainably farmed.
Prime holdings: Bâtard-Montrachet Grand Cru (0.10 ha), Chassagne-Montrachet 1er Les Embrazées (3.80 ha) and Chassagne-Montrachet 1er Les Caillerets (0.35 ha)
Domaine Morey-Coffinet (Chassagne-Montrachet) founded in 1978 when Michael Morey, son of Marc, combined his inheritance with that of his wife, Fabienne (daughter of Fernand Coffinet and Cécile Pillot). The other part of Domaine Coffinet went to Fabienne's sister, Laure, who founded Domaine Coffinet-Duvernay. The estate has been practicing organic cultivation (receiving Ecocert in 2015) and is converting over to biodynamic.
Prime holdings: Bâtard-Montrachet Grand Cru (0.13 ha), Chassagne-Montrachet 1er En Remilly (0.35 ha located next to Chevalier-Montrachet) and Chassagne-Montrachet 1er Les Blanchots-Dessus (0.06 ha the southern extension of Le Montrachet)
Subscribe to Spitbucket