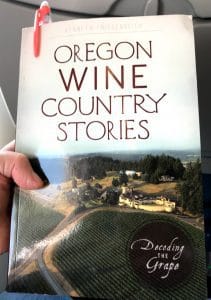 Even though it is still Washington Wine Month, I wanted to take a detour down south to review a book I first started reading back in May during Oregon Wine Month — Oregon Wine Country Stories: Decoding the Grape by Kenneth Friedenreich.
I first came across Oregon Wine Country Stories while scouting out new wine books to read for the March 15th edition of Geek Notes. At the time I was looking for the Oregon wine equivalent of Paul Gregutt's Washington Wines and Wineries and I was wondering if Friedenreich's book would fill in that sorely needed gap on my book shelf.
It turned out to be quite different from what I expected.
While titled Oregon Wine Country Stories, in many ways this book actually is about one story–the story of our personal relationship with wine and the taste memories we create with each sip. To Friedenreich, wine is "a kind of communion for which no prayers are mandatory" and through a backdrop of anecdotes and observations about the growth of and future of the Oregon wine industry, he invites the reader to listen to the stories that can be found in their own glass.
Overview
A native New Yorker, Friedenreich's peppers Oregon Wine Country Stories with details of his own journey with wine that included more than 30 years in California before finally settling at home in Oregon where he write frequent columns for California Homes Magazine in between frequenting local wineries with his good friend Doc Wilson–the longtime sommelier for Jake's Famous Crawfish in Portland, Oregon and the "Kevin Bacon of Oregon Wine".
I got the first inkling that Oregon Wine Country Stories wasn't going to be your typical wine reference book while reading the Prologue where Friedenreich shared some of his experiences with the booming California wine industry during the 1970s and 1980s that included time working as a writer for Orange County Magazine covering the Premier Napa Valley Wine Auction. That chapter takes on a mournful tone as Friedenreich describes a return visit in 2008 to find the Napa Valley he once knew was now a parade of weddings, hot air balloons, tour buses, sky high bottle prices and people with more money then what they know how to spend.
Circling back to Oregon, he notes that "If Napa has become Babylon, Willamette and beyond still have intimations of Eden and the pastoral. Get to it before it goes away."
That call to enjoy and take in what the still young Oregon wine industry bequeaths is a frequent narrative throughout the book as Friedenreich intersperses stories about pioneering Oregon figures such as Richard Sommer of HillCrest Vineyards, David Lett of Eyrie Vineyards, Jim Maresh of Maresh Vineyard, Dick Erath of Erath Winery, Harry Peterson Nedry of Chehalem Winery, Dick & Nancy Ponzi of Ponzi Vineyards and others in between commentary on some of the ills that he felt befell Napa and the wine industry in general–from the failed experiment of Prohibition to the modern ills of pandering to critic scores or not having a succession plan in place to guide succeeding generations as they take over from the founding families.
But perhaps the biggest ill that threatens Oregon or really any wine region's Eden is the apathy of wine drinkers towards the stories that are in their glass. To answer this affliction, Friedenreich dedicates several chapters towards coaxing the reader into thinking more deeply about the "historical memory" of wine, the stories behind each vintage year (Chapters 3 & 4) and the act of actively engaging with the wine (Chapters 10 through 13).
In Chapter 6, he turns the microscope on the words we use when speaking about wine, encouraging us to favor meaning over jargon. To Friedenreich, flowery prose in tasting notes are meaningless when the bigger lesson is about trusting your self–your own palate and your own response to the wine.
Some Things I Learned
Even though I would certainly characterize Oregon Wine Country Stories as more commentary verses a wine reference book, I nonetheless learned quite a bit–especially in Chapter 7 which is the most Oregon-centric chapter of the book and covers the 18 AVAs of Oregon.
I found myself particularly fascinated with the southern Oregon AVAs like the Umpqua Valley (approved in 1984), Applegate Valley (2000), Rogue Valley (2005), Red Hills Douglas County (2005) and Elkton (2013) because of the vast diversity of varieties they grow beyond just Pinot noir, Pinot gris and Chardonnay. While those grapes are undoubtedly stars in the state, my taste buds water with excitement for the potential of Oregon Tempranillo, Sangiovese, Viognier and more.
While I was familiar with the story of Richard Sommer and his first Pinot noir vineyard at HillCrest, it was fun to learn that Honeywood Winery actually predated HillCrest by almost 30 years as a pioneer in Oregon wine. Originally founded as Columbia Distilleries in 1934, shortly after the end of Prohibition, they are the holders of bonded winery license no. 26–the lowest number currently in the state–and are a specialist in fruit wine production.
Doc Wilson contributes a chapter titled "The Conscience of the Calendar" (Chapter 5) where he highlights the role that vintages have played in Oregon's wine history–from the pivotal early 1980s vintages of 1983 and 1985 to the difficult but quality producing years of 1998, 2002 and 2003 which taught Oregon winemakers several valuable lessons that paid off during the excessively hot vintages of 2006 & 2009 and the very cold and late ripening 2011 vintage.
New Reading Recommendations I Got From This Book
I'll admit that sometimes I get too "wine-centric" with my head buried deep into wine books and my ears filled with the siren songs of podcasts. But one of the things that charmed me the most about Friedenreich's book is that it continually pointed me to a world outside of wine that was still tangentially connected.
A big takeaway that I got from this book is that if you wish to taste the world of wine in your glass then you should have more than just a passing familiarity with the world around you. It's no surprise that instead of the usual roll call of wine books, the bibliography of Oregon Wine Country Stories is rich with literary and history narratives that are worth adding to my reading list.
C.S. Lewis' Studies in Words — For Friedenreich tasting wine is more than just about scribbling notes and evaluating bouquet or acidity. You can see a lot of Lewis' influence in his argument that the meaning and the "taste memories" formed from that glass of wine merits being described with words that resonant with the drinker instead of just a pithy tasting note.
Kevin Starr's California: A History — A strong thread throughout Oregon Wine Country Stories is Friedenreich's cautionary tale of some of the pratfalls and bumps that the have befallen the California wine industry in its history and his earnest desire to see the winemaking families of Oregon avoid a similar fate. To understand those bumps one needs to understand the make up and mettle of the people of California itself with Friedenreich encouraging readers to check out the work of the late Californian state historian that includes Inventing the Dream: California through the Progressive Era and Endangered Dreams: The Great Depression in California
Ellen Hawkes' Blood and Wine — One of the few explicitly wine-related books that Friedenreich name drops (along with the Kladstrup's Wine and War which I already own) is a history of the rise of Gallo's empire.
Final Thoughts
Kenneth Friedenreich's Oregon Wine Country Stories is not your typical wine book and I must confess that it took me a second reading before I really "got it". That is partly because of the many different tangents and perspectives that Friedenreich weaves throughout but also because of my own inclination to sometimes miss the forest through the trees when it comes to wine.
My light bulb moments with this book came in Chapter 18 (A Postcard from Oenotria) and particularly Chapter 19 (Everything Wears Down) when I came across the line "Wine knowledge is a goal post or target constantly on the move."
That got me wondering if all I've been doing lately is constantly chasing goal posts? Have I've gotten so wrapped up in "geeking" and eagerly trying to learn as much as I can about terroir and chemistry, vintages and viticulture that I've grown deaf to hearing the stories in my glass? How much worth is it if I fill my head with facts and figures but lose the heart that caused me to fall in love with wine in the first place?
It is ultimately that call to get back to the glass that is the thread which ties Friedenreich's work together and it is a unique journey that different readers will react to differently. Like me, I'm sure there will be many readers who pick up Oregon Wine Country Stories with expectations of it being a reference or buying guide on the wines of Oregon only to end up discovering that is not quite the case.
My best advice for someone diving into Oregon Wine Country Stories is to heed the advice that Friedenreich gives in his Epilogue to "Allow the story in the wine a chance to unfold…".
Likewise if you allow Friedenreich's Oregon Wine Country Stories a chance to unfold, you will find plenty in the glass.
Subscribe to Spitbucket