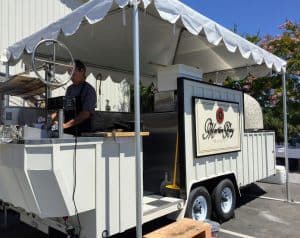 Let's take a look at some of the new upcoming wine books that will be hitting the market soon.
Crush: The Triumph of California Wine by John Briscoe (Paperback to be released Sept 1st. Hardcover on Sept 4th)
September is California Wine Month (I know, I know, someone needs to publish a calendar with all these various wine months and days) so the release timing of this 368 page book covering the history of the California wine industry is apt.
Given the breadth of its subject, it will be interesting to see how this book tackles its topic with most books on California's wine history being more singularly focused like James Conway's 3 book series on the history of Napa–Napa: The Story of an American Eden, The Far Side of Eden: New Money, Old Land, and the Battle for Napa Valley and Napa at Last Light: America's Eden in an Age of Calamity, Charles Sullivan's nearly completely California-centric Zinfandel: A History of a Grape and Its Wine or George Taber's account of the famous Judgement of Paris tasting and its impact of the California wine industry.
It's also telling of a daunting task that Thomas Pinney, a former professor at Pomona College in Claremont, California, needed more than a 1000 pages and two volumes to document a lot of California's history in his work A History of Wine in America Volume 1 & Volume 2. Yes, Pinney does include a little bit of history of winemaking from other states–including the early booming industries of Missouri and Ohio–but the vast majority of his work focuses on California and even then you get the impression that he probably could have added a third volume.
If you are craving more, I can recommend for any geeks wanting to learn about California wine to check out Larry Bettiga's
Wine Grape Varieties in California
which goes beyond the usual suspects of Cabernet Sauvignon and Chardonnay to detail more than 50 grape varieties growing throughout the state as well as Mike DeSimone and Jeff Jenssen's
Wines of California, Special Deluxe Edition
that takes a little more of an overview approach of the state, focusing on wineries and winemakers. Likewise Jon Bonné's
The New California Wine: A Guide to the Producers and Wines Behind a Revolution in Taste
also takes an overview approach but focuses on the wineries that Bonné particularly feels are driving the future of the California wine industry.
Literary Libations: What to Drink with What You Read by Amira K. Makansi (To be released Sept 4th)
I love when my passion for wine and literature cross paths which is why I've been really looking forward to Jay McInerney's upcoming November release of Wine Reads: A Literary Anthology of Wine Writing which will include both fictional and non-fictional stories and anecdotes on wine from folks like Rex Pickett (of Sideways fame), Jancis Robinson, Kermit Lynch, New Yorker writer A. J. Liebling as well as McInerney who previously wrote Bacchus and Me: Adventures in the Wine Cellar, A Hedonist in the Cellar: Adventures in Wine and The Juice: Vinous Veritas.
I suspect that Makansi's
Literary Libations
is going to have a more light-hearted and entertainment-focused approach than McInerney's work–especially since the former is categorized as "Humor Literary Criticism" by Amazon. Still the description of the 224 page
Literary Libations
notes that it will offer nearly 200 wine, beer and cocktail recommendations for numerous classical works across a number of genres.
I can see this being a fun easy read, especially for something like a long train ride or airline flight.
Flawless: Understanding Faults in Wine by Jamie Goode (To be released September 7th).
Now this is a book to truly get your geek on. A plant biologist by training, Jamie Goode (the Wine Anorak) is an excellent writer who takes a keen scientific approach to all aspects of wine production and tasting, presenting it in both a thought provoking and digestible manner.
If your book shelf doesn't have at least his The Science of Wine: From Vine to Glass then you are missing out. Likewise his I Taste Red: The Science of Tasting Wine and Authentic Wine: Toward Natural and Sustainable Winemaking with Master of Wine Sam Harrop are also well worth the read.
With Flawless, Goode turns his attention to faults in wine which can have a myriad of causes in the vineyard and the winery. To add to the complexity of faults, humans have a wide range of sensitivity to them with some, like Brettanomyces, being considered anything from a component of terroir and complexity (see A Spice of Brett) to an incorrigible fault that should be eradicated in winemaking.
It will be fascinating to see Goode's take on this so you better believe that this book will soon be on my shelf.
Subscribe to Spitbucket